Welcome to my web site!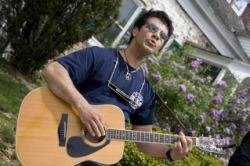 Joe NaturaleTM is a singer-songwriter from Highland, New York who performs popular music from the 1950s through today on acoustic guitar and harmonica.
Joe donates all proceeds from his performances to charity.
It all started when an even littler Joe saw The Beatles on The Ed Sullivan Show. Joe Naturale's catalog of songs reflects the variety in pop music that he listened to growing up, when AM music radio played everything from Aretha Franklin to Led Zeppelin. Joe plays songs by a broad spectrum of artists, like Bobby Darin, Simon & Garfunkel, Wilson Pickett, The Eagles, Elton John, Bruce Springsteen, REM, Green Day and Matchbox 20.
Joe Naturale's songs and charisma appeal to everyone (well, almost everyone -
see my "Premature Ejection" blog entry
). Women and men of all ages and ethnic groups have come forward to compliment Joe's talent and repertoire. Joe's music brings people together and makes them happy.
Joe used to sing and play bass guitar in bar bands. Then he got married and put away his guitar to focus on family and career. Following the 9/11 attacks, Joe joined the
Sparkill Fire Department
, and started singing and playing guitar every day. Joe is no longer married, but he is still singing, playing guitar and fighting fires.
Joe's fine singing voice earned him a spot as a finalist in a
Westchester Idol
competition in 2006. He also starred in two TV commercials and several print ads for cancer screening. He is a
Manhattan College
graduate and works for Rockland County as an environmental engineer.
Joe Naturale is a mature, youthful professional. He's an athlete and he practices every day to give the audience a bountiful buffet of music. He sounds good, he looks good, and he's good for business.
Contact Joe Naturale to entertain your patrons. They'll be glad you did.
---